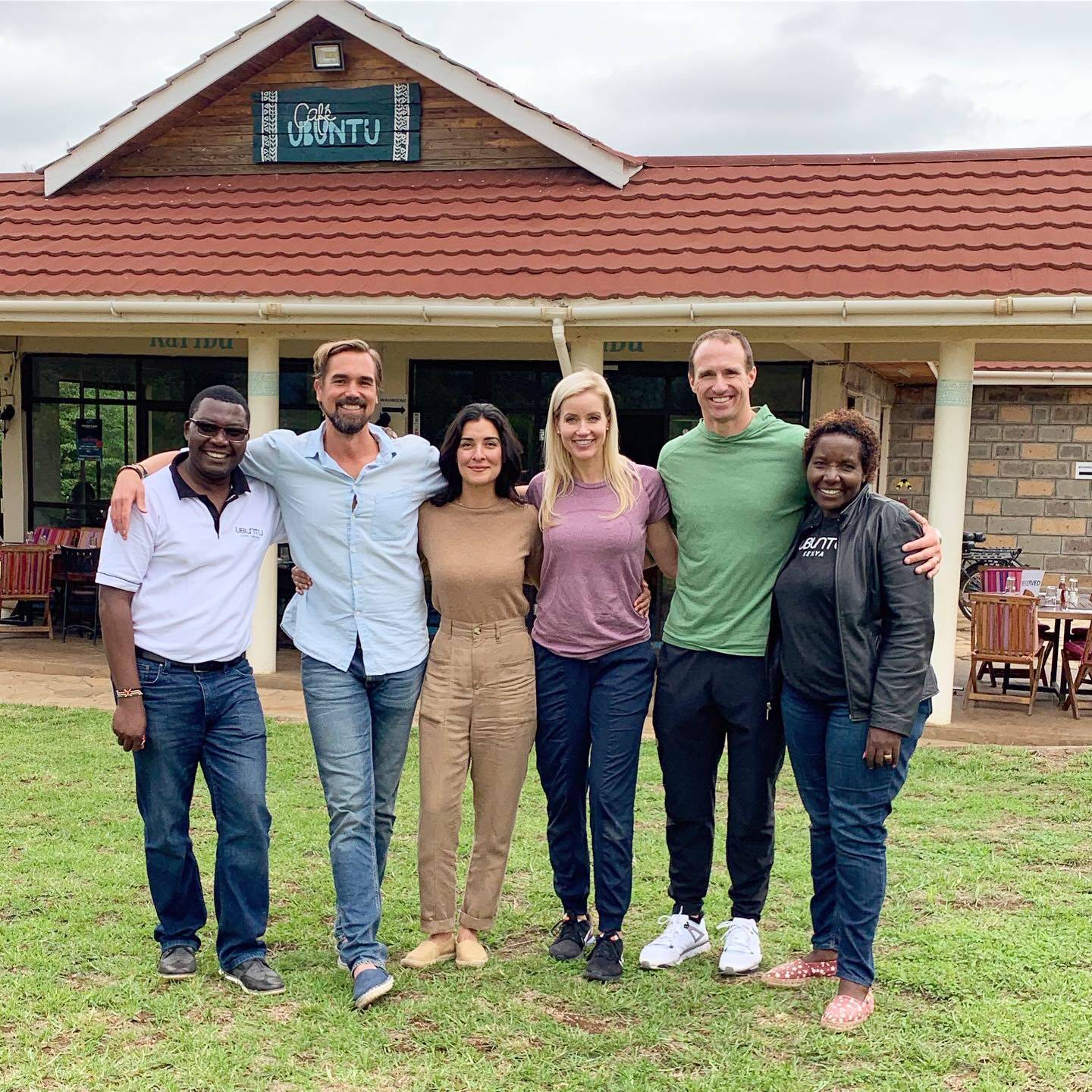 Jeremiah Kuria, Zane & Amal Wilemon, Brittany & Drew Brees with Mary Kuria
Merry Christmas and almost Happy New Year to you all!
I am extremely excited to announce that we have officially secured our lead investor for our priced seed round! As many of you know, Brittany & Drew Brees visited us in Kenya in 2019. They have remained connected to our mission ever since, and when we spun the enterprise out into a for-profit, we have been discussing what role Drew would like to take with Ubuntu. I could not be more excited to have someone of Drew's character as our lead investor. And on top of that great news, our long-time friends, Molly McNearney & Jimmy Kimmel, have joined Brittany & Drew as investors on our priced seed round. Hard to beat having one of the NFL's best all-time quarterbacks and one of late nights best talk show hosts leading the way for Ubuntu Life as we enter the new year!
What does this mean for all of you who have invested via SAFE notes? It means that your SAFE's are officially converting to equity in Ubuntu Life. I will follow up with each of you this week with more details. Also, for any of you interested in investing in this current round, please get in touch. We are still taking investment and are aiming to close early next month.
Even more exciting news to share with all of you in January about our biggest and baddest partnership to date!

Peace,
Zane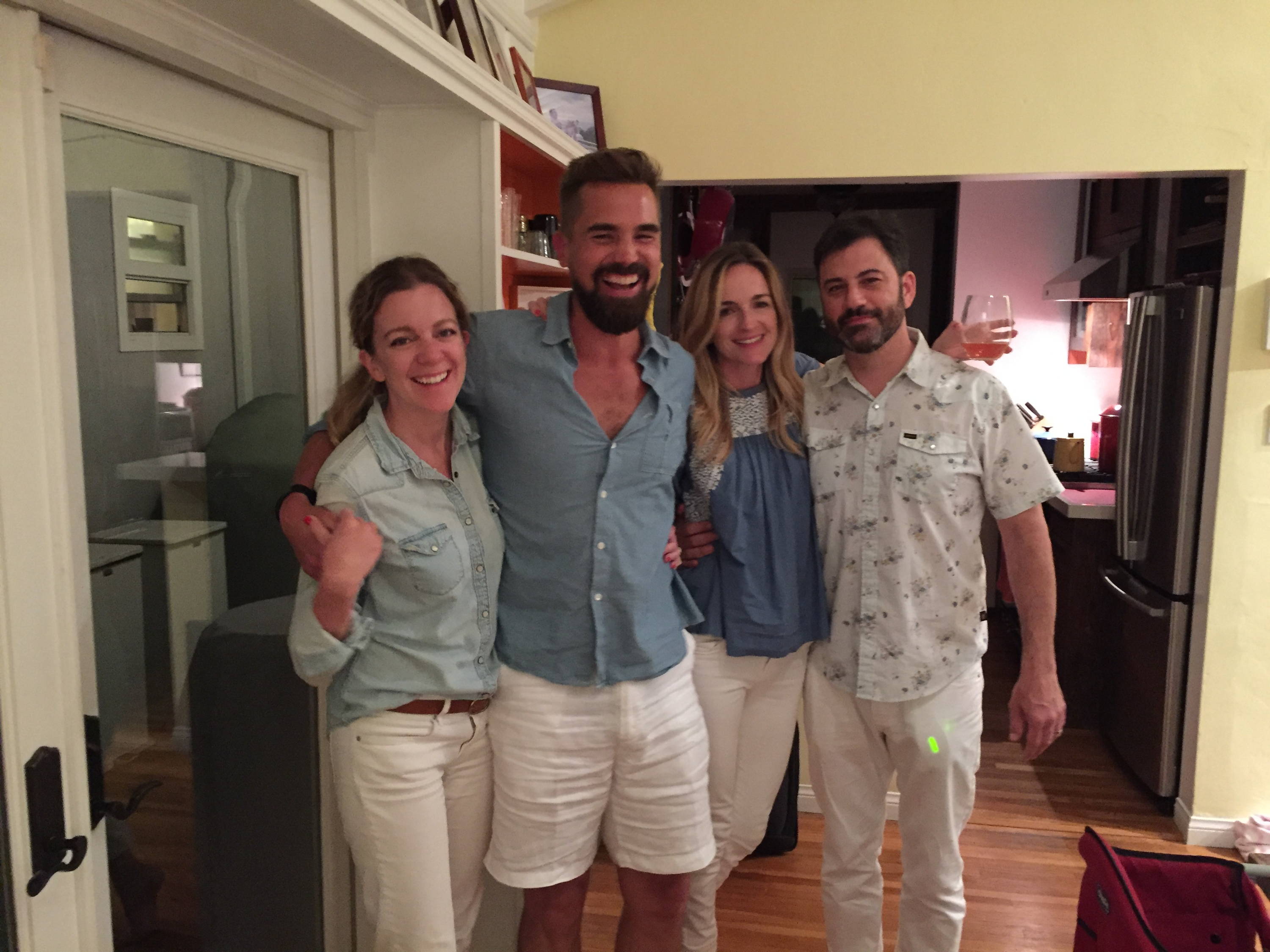 Kelly McNearney, Zane Wilemon, Molly McNearney and Jimmy Kimmel
---
Special tribute to the extraordinary man who inspired Ubuntu Life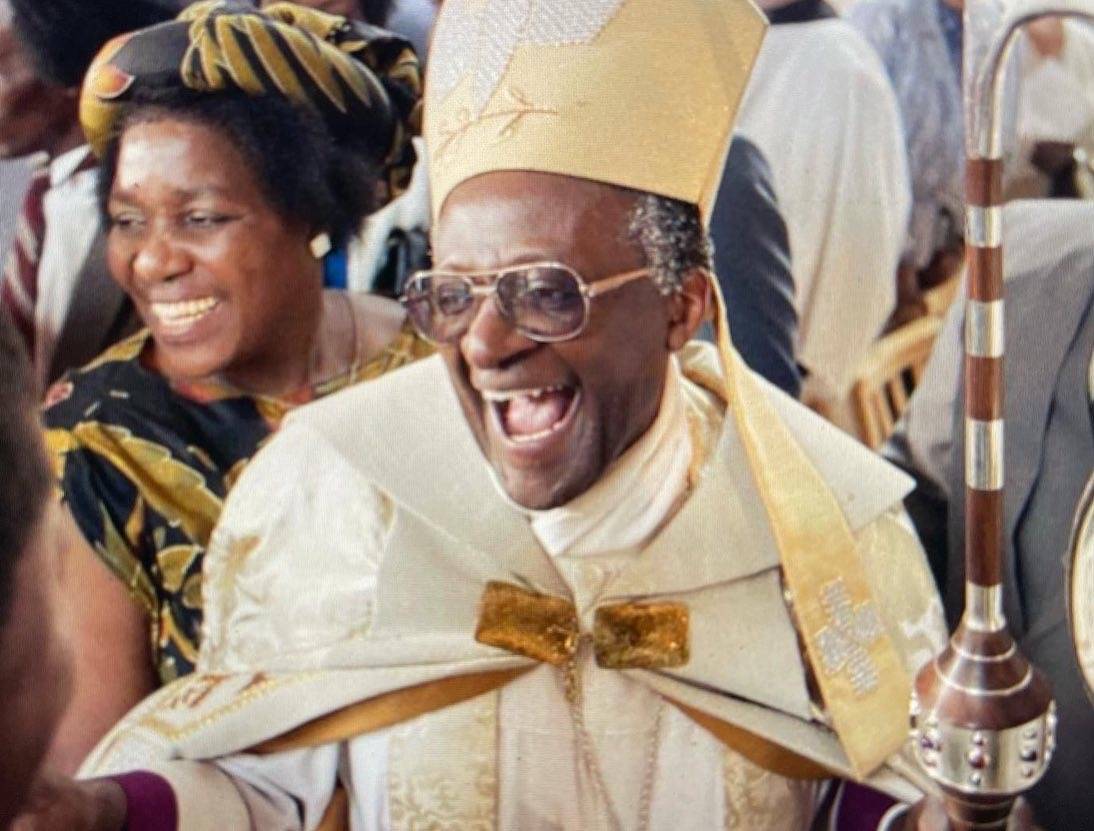 I've spent the morning reflecting on the life of the global leader out of South Africa, Archbishop Desmond Tutu, the man whose life and purpose had such a profound impact on me that Jeremiah and I named our company, Ubuntu Life, after his legacy. Growing up as a child of the 80's, I remember my parents watching the news about apartheid in South Africa and about the various black South African leaders that were fighting for change. However, the life and impact of Tutu did not hit me fully until I had actually lived in Africa for about 5 years. It was Christmas 2005 and my brother Rance and good friend David Simpson were visiting me in Kenya. I will never forget it, they gifted me a South African magazine and in it an in depth story about Archbishop Tutu. I learned for the very first time the meaning of "UBUNTU" and how it was Tutu's deep faith in Jesus and how that faith combined with the African philosophy of UBUNTU crystalized within his heart his mission to love, to serve and to see a people and a world bound to one another, our shared humanity.
---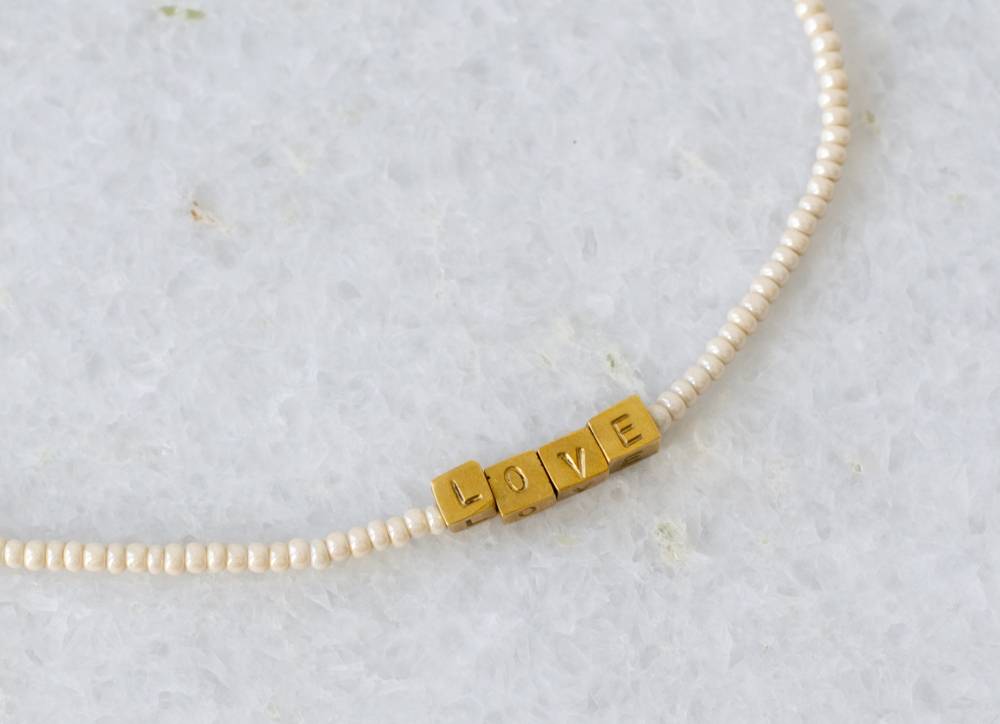 We are beyond thrilled to share our latest collection of bracelets and necklaces with you. Creative Director Amal Wilemon describes the collection as "SO elegant, SO holiday," and we could not agree more.
The pearl beads are just gorgeous, but it is undoubtedly the most adorable cube brass beads that take this collection to the next level. Designed to accentuate and complement the stunning pearl beads, we collaborated with our Nairobi-based artisan community to make and hand-stamp each bead.
No wonder this collection sold out in 48 hours!
---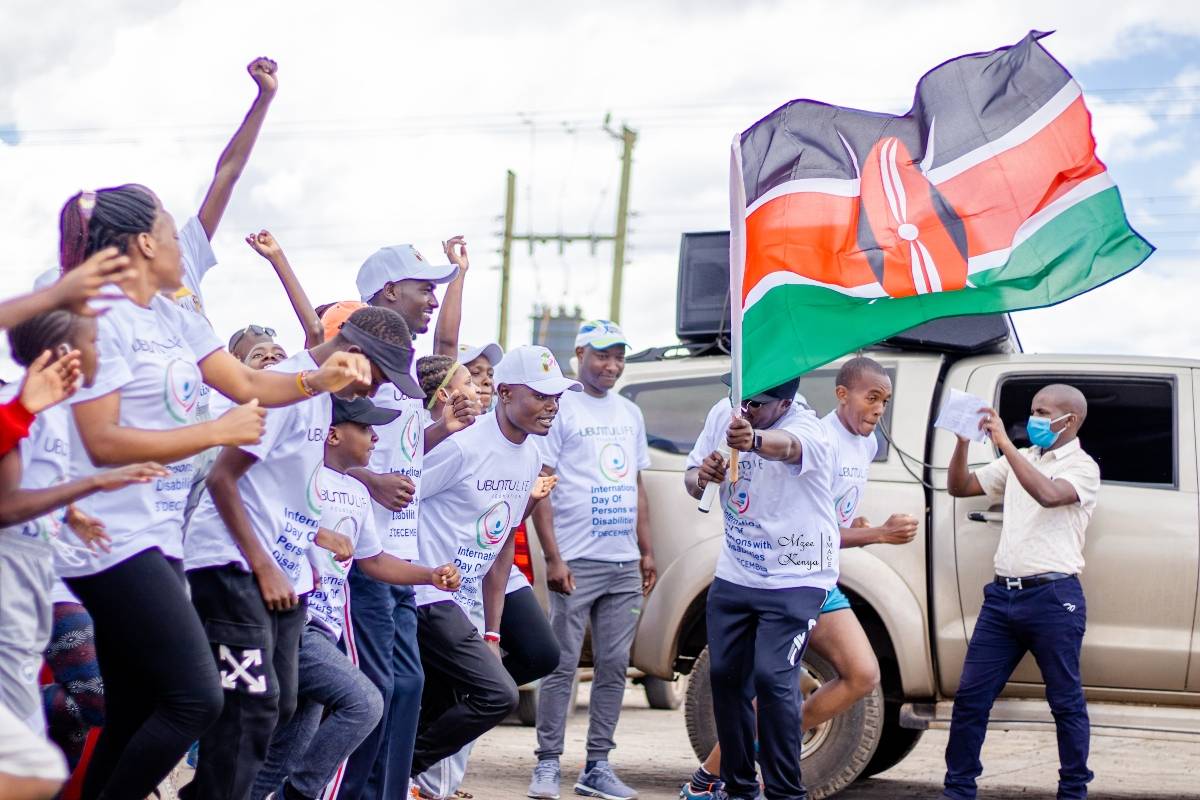 Every year, on December 3rd, the Ubuntu Life Foundation celebrates the United Nations Day for Persons with Disabilities. The theme for this year was "Leadership and participation of persons with disabilities toward an inclusive, accessible and sustainable post-COVID-19 world."
We work towards supporting this theme by making an extra effort to create a barrier-free society where children with special needs can get access to education, healthcare and be in a place where their needs/efforts are addressed and recognized.
Ubuntu Life Foundation decided to commemorate this day with a 5K run. The run attracted over 200 people, both adults and children, as well as those living with special needs. Despite the current world circumstances, quarantine, social distancing, restriction on many activities, the event went off seamlessly.
The event brought people from all over Nakuru County and Kenya at large. Big corporations and our partners were not left out. We received a lot of love and support from them and are so thankful!
---

Gross Margin (GM): Our goal for 2021 is to increase our GM to above 62% by negotiating better rates with suppliers and managing our production process more closely which will in turn increase the profitability of the business.
Expected Revenue Share (ERS): Our goal for 2021 is to decrease our ERS, which is the portion of revenue spent on advertising, to around 45%. This will allow us an adequate marketing budget to drive sales whilst ensuring that our net contribution is high enough to cover our operating expenses.
We monitor ERS and ROAS (Return on Ad Spend) daily to ensure that we are converting our advertising costs into enough revenue and are putting more funds behind advertising when ROAS is high and we have room to spend. We aim to keep ROAS above 200% with our annual goal set at 222%.
ERS in November 2021 was slightly higher than our goal of 45% due to a ramp in ad spend around Black Friday / Cyber Monday and running promotions for part of the month. This helped to move products and increase revenue, however, it decreased gross margin based on the product mix we sold. Both our GM and ERS for the year-to-date are still averaging around our annual goal.
---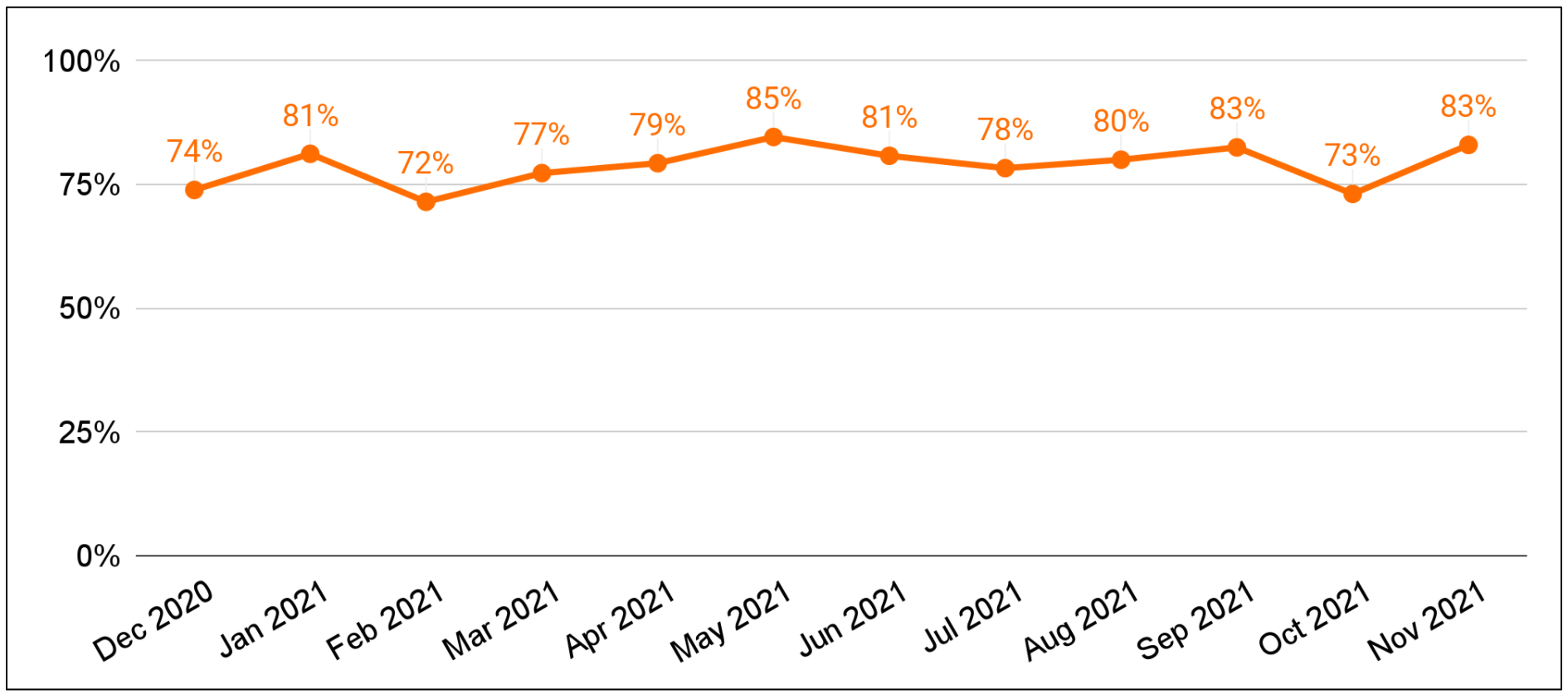 Since launching our NPS surveys, Ubuntu Life has maintained an average of 79% which is considered excellent within the retail sector. The average NPS score online shopping is 45. Our score is a testament to brand loyalty, impact storytelling, and delivering high-quality products with great customer service.
The Net Promoter Score is an index ranging from -100 to 100 that measures the willingness of customers to recommend a company's products or services to others. It is used as a proxy for gauging the customer's overall satisfaction with a company's product or service and the customer's loyalty to the brand.
---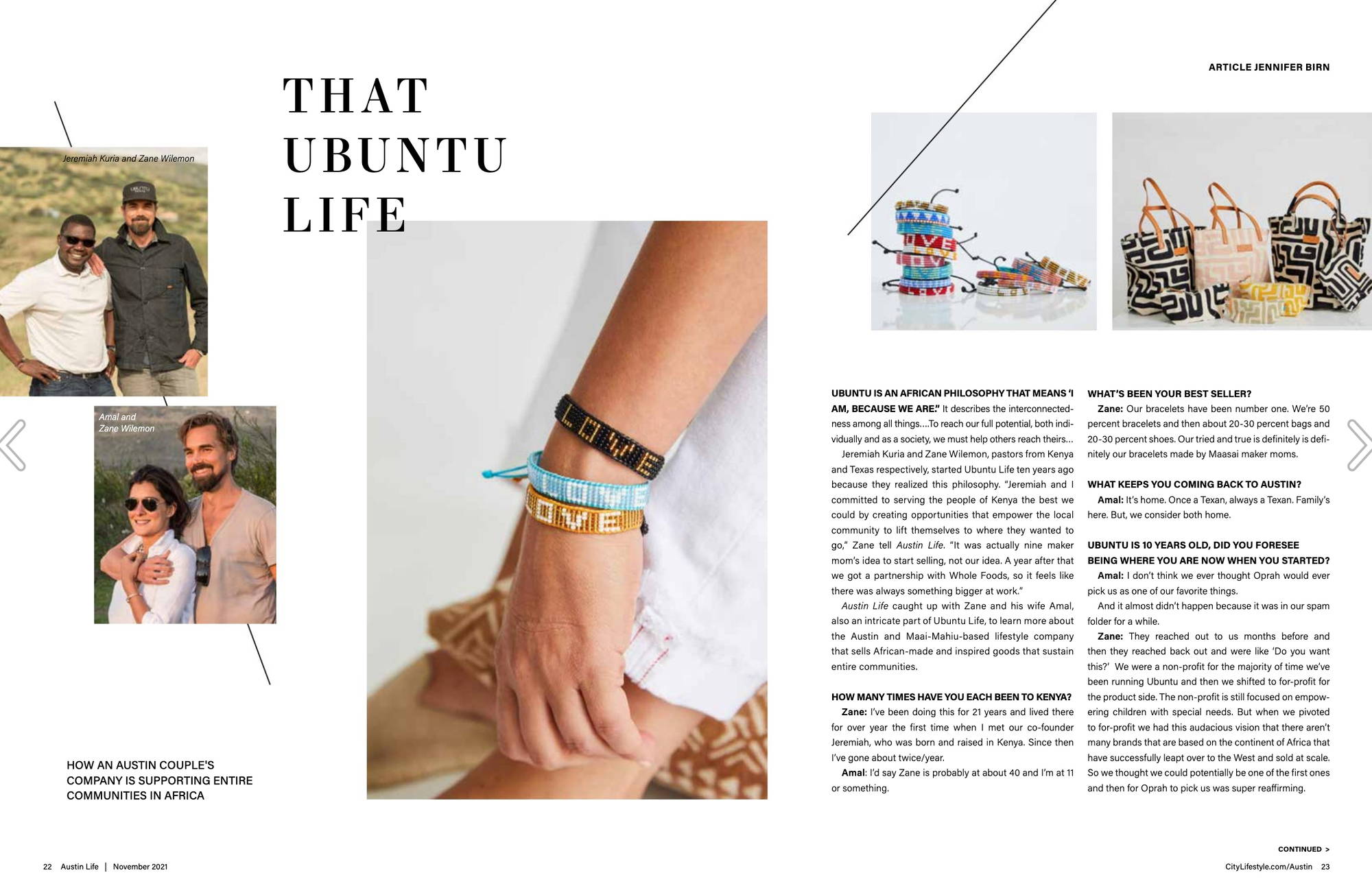 Austin Life caught up with Zane and his wife Amal, also an intricate part of Ubuntu Life, to learn more about the Austin and Maai-Mahiu-based lifestyle company that sells African-made and inspired goods that sustain entire communities.
---
Thank you for your continued partnership.
If there is anything specific you would like included in these monthly updates please let me know and I will do my best to feature in the next issue. If you would not like to receive the Monthly Ubuntu in the future please reply to this email with STOP.
Peace, Zane